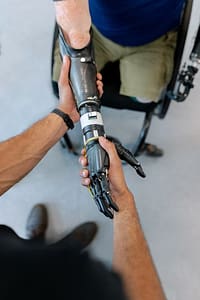 Startling emphasis is laid on mental health these days. This was not the scenario a few decades back. Even today the situation is quite conservative and mental health is treated as a taboo in most parts of the developing and developed nations.
The mental health awareness campaigns are running well. The figures on how many people sought mental health counseling or medication attest to the efficacy of such initiatives. In 2019, 19.2 per cent of the adults had opted for treatment which increased to 20.3 per cent in 2020.
The term mental health is like an ocean with many sub categorizations. One such category is occupational therapy. In this article, we are going to touch upon the basics of occupational therapy.
To begin with, what is Occupational Therapy?
You would have witnessed that when a person who has met with a major accident finds it difficult to trust his or her own body. They need help even with eating, bathing, and walking which was certainly not the case prior to the accident.
This dependence works pessimistically on their mental health giving them the sense of utmost dependency. These patients need Occupational Therapy to get back to their everyday pre-accident life.
The word occupation used in the terminology Occupational Therapy refers to the daily chores such as cooking, eating, working out, studying, performing a job, etc. as an occupation. 
So, a person who is unable to perform these occupations due to disability, injury, illness, etc. is someone who needs Occupational Therapy.
Occupational Therapy aids such people in performing tasks – be it at home, work or school. Individuals receiving Occupational Therapy may then accomplish ordinary chores without needing assistance, giving them a sense of confidence and independence.
One should keep in mind that the field of Occupational Therapy is vast like the ocean, and what is shown above is only a small subset of it to give you a basic grasp of it.
Occupational Therapists 
If estimates are to be believed then the employment opportunities for Occupational Therapists will grow by at least 17 per cent from 2020 to 2030. 
There will be an average opening of 10,100 Occupational Therapists each year.
Occupational therapists are healthcare practitioners that use therapeutic strategies to address physical, mental, and emotional disorders that prevent people from doing daily activities. They work with all age groups from babies to old age people. Their work is broadly divided into assessment, planning and intervention.
They are different from physical therapists or nurses as their goal is to treat the patient in its entirety and not just his or her injury or disability. 
These experts in various sessions with their patients under the following steps: 
Meeting with the patient and giving them a sense that they are not different and certainly not fully dependent; 

Assessing their injury, disability or any trauma that has brought them to therapy;

Assess their current environment – this is very crucial for children and old age group; 

Drawing down short term goals for the patient; 

Giving them assignments/ homework which is aligned with these goals;

Training or involving the family of caretakers of the patients in the plan;  

Regularly assessing the progress.
A person with a disability or who meets an accident undergoes a great deal of trauma. This trauma with a sense of dependency can have a detrimental impact on their mental health. While family support is vital we need an expert to do his or her job and make them feel good in their own skin. 
If you know of someone who needs Occupational Therapy then enroll today – do not wait. To get help from an expert, take the first step and book an appointment today with TrueHealth for yourself and your loved ones. For more details visit our website or call on (631) 581-0737 or send us an email at scheduler@truehealthdocs.com.