August 11, 2021

Comment: 0
COVID-19 or the coronavirus pandemic has spread all over the world. If you are experiencing symptoms like fever, chills, shortness of breath, or congestion, do not ignore it thinking that it may just be colds or regular flu. Getting yourself tested for COVID-19 saves you from the hassle of undergoing unnecessary treatment and helps in catching the virus early on.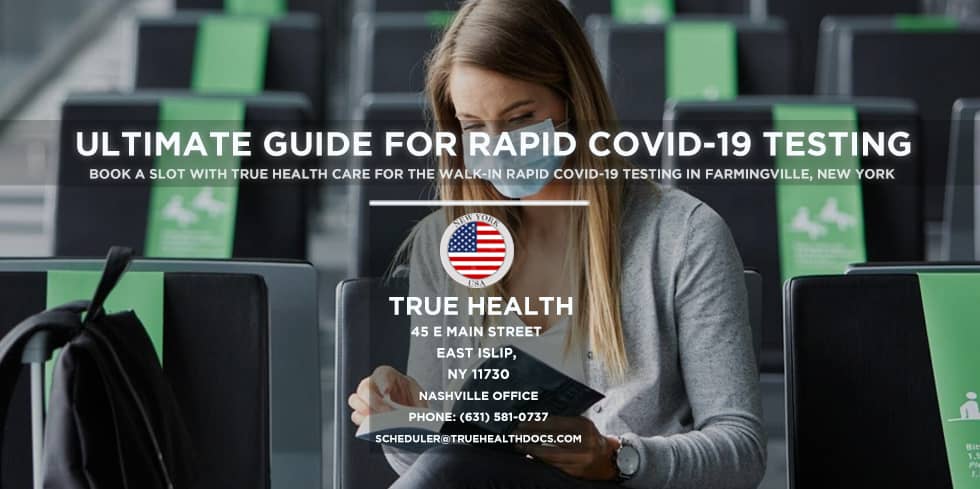 At True Health Primary Care and Walk-In clinics, we are helping people residing in the East Islip, New York area in getting them tested for COVID-19. COVID-19 testing will ensure that you are not actively infected with SARS-CoV-2. That you get the diagnosis and care needed to cure it. If you indeed have caught a virus. It is very important to not ignore the symptoms and get yourself tested for coronavirus as it is extremely contagious and deadly.
True Health Primary Care performs swab testing from mouth and nose. It also offers rapid COVID tests for people who want to get the results urgently. Rapid tests are a great way to get faster results and start treatment right away.
If you are in the East Islip, NY area and you are experiencing any symptoms of COVID-19, contact True Health East Islip Family Care. COVID, if not treated properly and promptly, can lead to kidney failure, pneumonia, and loss of life. This virus is highly contagious and can spread through sneezing and coughing. The mucous passages of the mouth, eyes, and nose are used by the coronavirus for transmission purposes.
If you have been in close contact with a person who is infected with the virus, or you have returned from a gathering, you are morally responsible to get yourself diagnosed for COVID-19. True Health has its COVID-19 testing center in East Islip, New York. So, if you are from around East Islip and you want to get the COVID-19 test or rapid test taken, you can contact us right now at (631) 581-0737. Our team at True Health Primary Care and Walk-in can set an appointment for your PCR test. Rapid test to rule out the prospect that you are infected with COVID-19. The address for True Health East Islip Family Care is: 45 E Main St, East Islip, NY 11730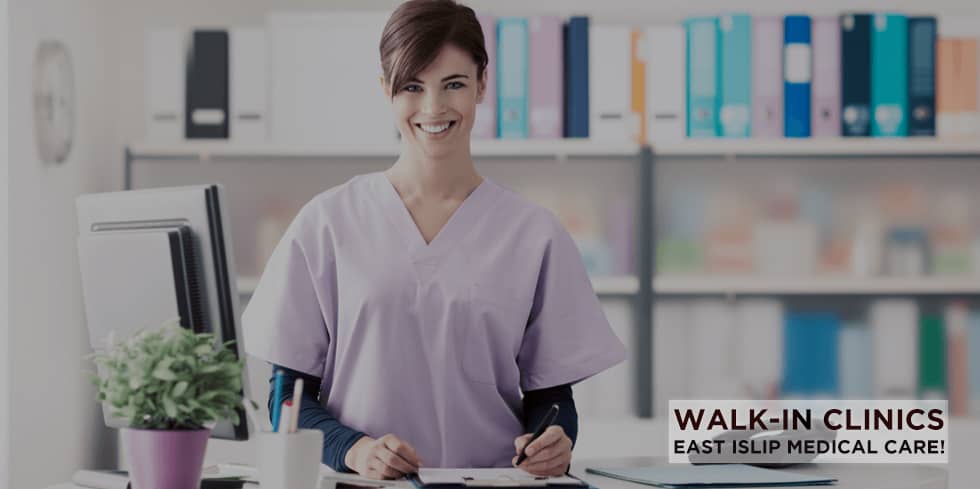 True Health offers one of the best primary care and immediate treatments in New York. The clinic offers COVID-19 testing in the East Islip area. Rapid testing for COVID-19 is also offered at True Health walk-in and drive-thru clinic. You can set an appointment if you want to save time and avoid waiting. Our doctors and testing teams are experienced and professional who believe in providing complete satisfaction to their patients. We have a clear-cut fee structure that is affordable and free of any hidden charges. The test results for the rapid test are provided within like, half an hour. Whereas the PCR test results are available within 24 hours. For setting an appointment or to ask any questions you can call us at (631) 581-0737.
We are an East Islip Walk-In Clinic providing primary care for you and your family. Our Doctors are board-certified and ready to diagnose and treat your ailments. Contact us today for an appointment or just walk in. 631-238-1535